Provincial rugby team kick it up a notch
Preparations are now well underway to host the first inter-Provincial rugby match against the Leicestershire Light Blues RFC. The game will take place on Saturday 9 February at Wigan RUFC. Kick off will be at 13:30.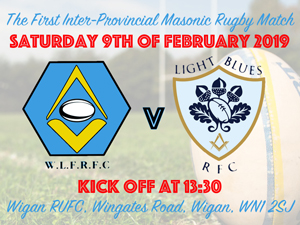 One of the preparations made is increasing the frequency and accessibility of the training sessions to allow people interested in playing the game a chance to train with the team and prepare for the big day.
On Tuesday 11 December the West Lancashire Freemasons RFC will be at their usual training fixture. This takes place at Wigan RUFC, Wingates Road, Wigan, WN1 2SJ at 19:00.
The West Lancs Freemasons RFC are also adding two more training sessions in December at a public park with playing pitches. These sessions will be held on Sunday 23 December and Sunday 30 December at Moor Park, Preston, PR1 6RU at 13:30.
The aim of these sessions is to bring in those of you who can't attend the Tuesday session at Wigan but can attend at a weekend in the centre of the Province.
The team are looking for anyone interested in playing regardless of experience, getting fitter, and having a laugh whilst doing it. Anyone interested should email: WestLancsRFC@hotmail.com or secretary@WLFRFC.org.uk.
You can also keep up with the team with their social media.
Facebook: https://www.facebook.com/WestLancsFreemasonsRFC
Twitter: https://twitter.com/WestLancsRFC
The President Paul Renton and Chairman Garry Hacking would like to take this opportunity to thank all the lodges who have so far donated money to our cause as it has helped us immensely.