Christmas Fair raises £1,400 for soft furnishings
The annual Ecclesholme Christmas fair organised by the Association of Friends of Ecclesholme committee held at Eccles Masonic Hall was a huge success. The event was opened by Paul Renton the Deputy Provincial Grand Superintendent and he was shown around the home by the Association President, Stephen Gregory prior to him opening the fair.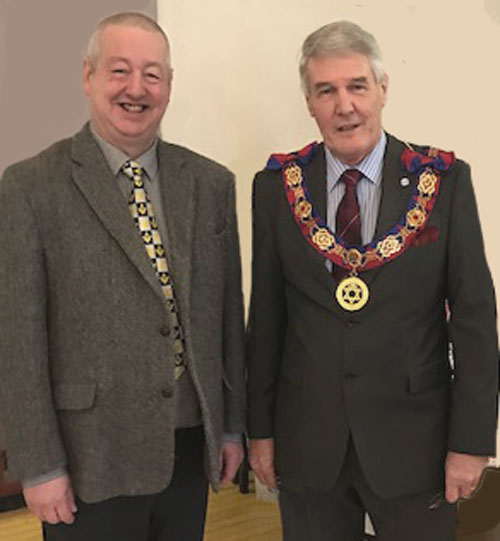 Ecclesholme is currently being refurbished by the RMBI which is an integral part of the Masonic Charitable Foundation. When finished the MCF will have spent £500,000 on the refit. The work currently being carried out is phase two of the three phases of improvements to modernise Ecclesholme..
This is the first of the two Masonic homes in West Lancashire to be refurnished and a further £500,000 is to be provided by the MCF to do extensive work at the Tithebarn in Crosby, Liverpool.
The Christmas fair raised in excess of £1,400 for the 'Residents' Amenity Fund' to provide much needed soft furnishing to compliment the new work carried on in the home. The committee along with the home manager, Bev Niland and her staff manned the stalls and thanks to their efforts the fair was a success.
Since the last meeting the fund has been given over £18,000 for essential items for the benefit of the residents. A new electronic bath is to be purchased and installed at a cost of £7,000 to make bath-time for the residents much more easy for them get in and out of the bath with dignity.
Each one of the 50 bedrooms at the home needs bedside pads costing £2,000, in order to monitor and to inform the carers if a resident leaves their bed or should they fall, enabling the staff to attend the resident in need.
The Ecclesholme and Tithebarn committees are indebted to the MCF as are the Province for the support they give to the Masonic homes in West Lancashire. The funding of course comes from the generous donations provided by Freemasons with the largest sums coming from Provinces in festival. For more information or to donate go to the West Lancs 2021 Festival page